Transforming & Enriching Your Homes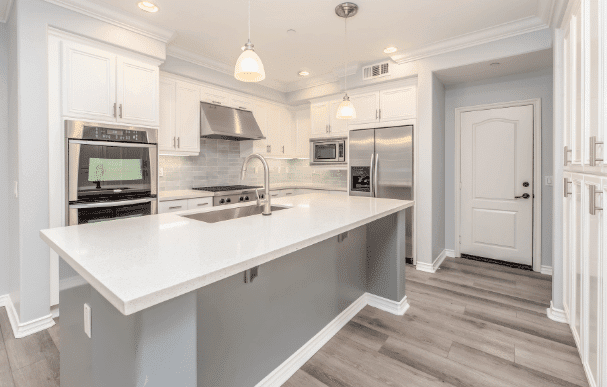 Quality Kitchen Remodeling
Most people would agree that the kitchen is the most important room in the house. It's where you cook, eat, and make memories with your family. If you close your eyes and think for a minute, we're sure an abundance of happy, special moments will pop up in your brain: date night dinners with your spouse, cooking lessons with your child, Christmas cookie decoration, and many more snapshots of joy. Because this room is crucial for making memories and elevating spirits within the home, you should maintain a beautiful, safe kitchen. Never settle for less. Prime Remodeling can help you create your dream kitchen.
Why Is Kitchen Remodeling Important?
Unless you opted for custom home construction (which we also do, by the way!), likely, you didn't design your own kitchen. You might be thinking, "Why does that matter?" Well, if you didn't design your own kitchen, it means the space was created with someone else in mind. And that person had a different personality, different needs, and different preferences. What works for one individual may not work for another. Think about it. Do you ever find yourself hitting your head on cabinets set too low to be practical for your height? Or maybe you can't stop banging into the corner of your countertop, which extends farther than you'd like. Those uncomfortable instances are caused by a poor or ill-suited layout. Kitchen Remodeling corrections these problems.
Benefits of Kitchen Remodeling
Our team at Prime Remodeling can't overemphasize the benefits of kitchen remodeling. First of all, reconfiguring your kitchen to suit the needs of you and your family increases the overall happiness of the household. When you walk into the kitchen, it will put you in a good mood. You'll get to admire that bold and colorful backsplash that brightens up your once-dull kitchen, run your fingers over the granite countertops that replaced your old, chipped ones, and bask in the light of your fun, playful light fixtures. If you and your family members don't smile every time you enter your kitchen, there's a problem. Plus, remodeling your kitchen adds resale value to your home. Modern kitchens go a long way toward convincing homebuyers to up their offers.
We Offer Comprehensive Kitchen Remodeling Services!
Prime Remodeling offers comprehensive kitchen remodeling services. Whether you need a simple spruce up or a complete redesign, we've got you covered. We install cabinets, do paint jobs, change flooring, replace light fixtures, and much more. Our fully licensed and insured contractors have more than twenty years of combined experience under their belts. You can trust your kitchen to us. No one does a kitchen remodel like our team, and we guarantee you'll be satisfied with the results of our work.
What Are You Waiting For?
Our contractors at Prime Remodeling are the best of the best, and we love helping homeowners achieve their dream space. Nothing makes us happier than seeing the smile of joy on our clients' faces when they see their newly-remodeled kitchens for the first time. In the end, that's what motivates us to keep doing great work. Customer satisfaction is the driving force behind our quality home remodeling services. So why wait? Contact us today and take the first step toward gaining the kitchen of your dreams.
Frequently Asked Questions
How Much Does Kitchen Remodeling Cost?
The cost of kitchen remodeling depends on the scope and complexity of your project. Because prices vary for everyone, it's impossible to give a general price. However, we're happy to give you a free estimate.
How Should I Prepare For a Kitchen Remodel?
There are two main ways you should prepare. First, remove all the belongings from the kitchen you can. That makes it easier for us to move around within the space. Second, create a plan for preparing your meals. Depending on the scope of your project, you may need to borrow a neighbor's kitchen or add more take-out food to your monthly budget.
How Long Does a Kitchen Remodel Take?
Typically kitchen remodeling projects take between 6-12 weeks. Once again, however, this depends entirely on the scope and complexity of your project. When we know the details of your home improvement project, we can provide you with a more accurate time estimate.
Do I Need Permits For My Kitchen Remodeling Project?
For minor changes like a paint job or countertop replacement, no. You only need permits for major structural changes, such as expanding the space. We're happy to work alongside you and help you get the necessary permits for your project.
High-Quality Home Renovation Projects in Houston, Texas